Services
SBY developed a in-line quality control system for modified atmosphere packaging – MAP.
We are capable of measuring the amount of residual oxygen of packaging minutes after the sealing without piercing the package.
We use a molecular oxygen probe aka smart-ink which is printed between the barrier and the internal layer of a flexible film and an optical reader to assess the internal oxygen percentage.
Need
The lack of an automated system for reading the quantity of oxygen for food packaging in a modified atmosphere leads to:
tests that are destructive and carried out randomly and manually by a dedicated operator;
the stop of the line to carry out a manual control of the entire production lot in the event of a positive test;
data is very dependent on the operator's dexterity: scarcely repeatable and inaccurate;
the packaging produced do not have certification of the closure and the effective composition of the modified atmosphere;
Failure to automate this aspect is hindering achievement of high packing speed.
Solution: working principle
The smart-ink is dispersed in a resin (eg. polyurethane resin) and printed between two film layers. The ink is compatible with rotogravure or flexographic printing techniques.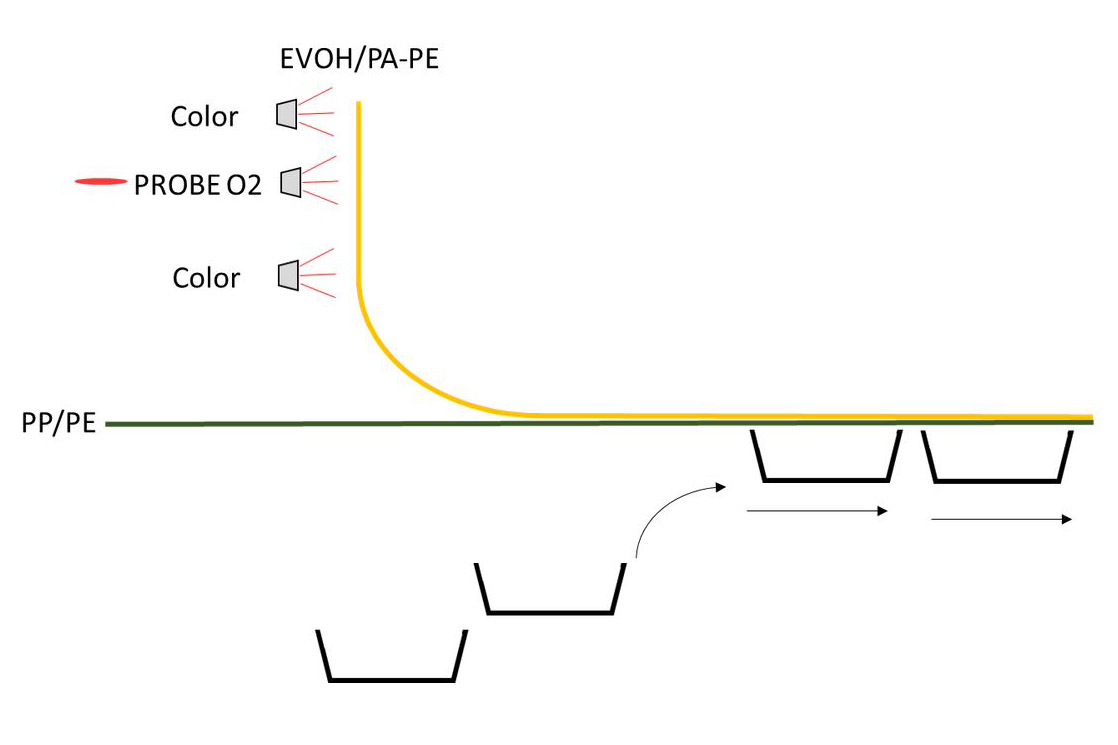 The oxygen probe reacts with the amount of oxygen inside the packaging giving a signal to the optical reader. The reaction is fast and fully reversible so the system can be used to monitor the barrier layer performance through time.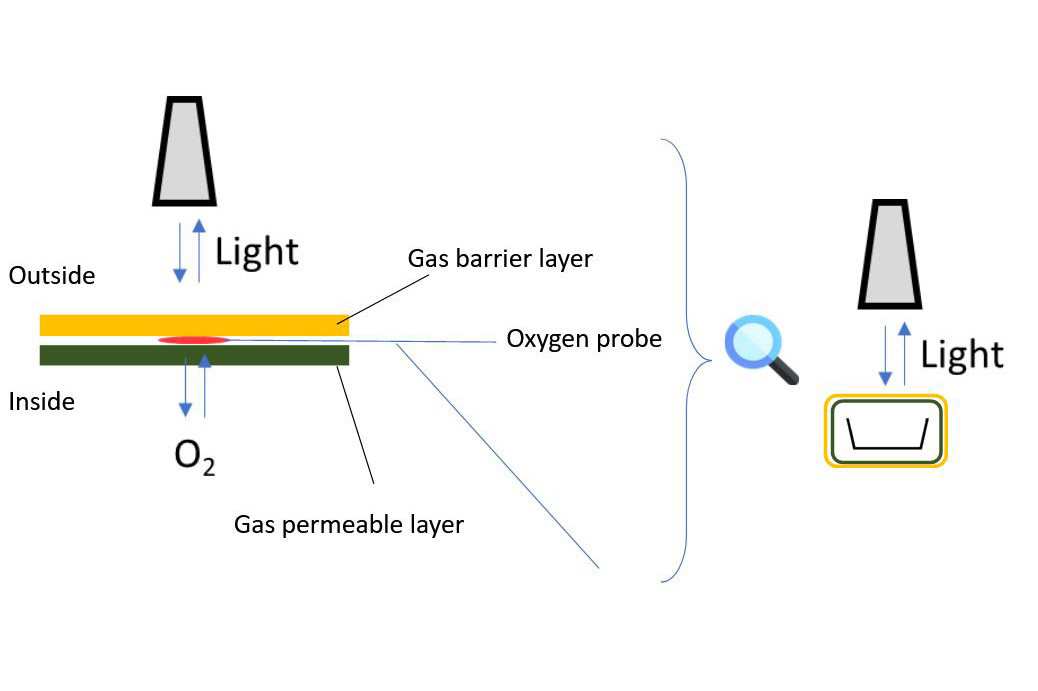 Features
Online process control: fast response (0.1-5ms)
Non-invasive, without gas extraction,
Repeatable (shelf-life test)
Measurement range 0-20% of oxygen.
Reading of the perfect closure of an envelope.
Can be used for vacuum packing mapping.
The smart-ink is barely visible to the naked eye
The smart-ink needs a dedicated area of the packaging of max 1.5 cm2.
The optical reader is supplied already capable of communication with actuators and mechanical parts designed to separate unsuitable materials (plug-and-play).
We offer different solutions related to your sector's needs.
Production
Developers
Distribution
Fast online MAP packaging Quality control
R&D tool to test innovative barrier layer materials
– You can ask your supplier to certify every piece of packaging that exits the factory

– You can then use the system to monitor the packaging shelf-life.

Key features:

Fast
Non-destructive
Fully automatized/integrated
No more rejected goods

Repeatable (reversible reaction)
Accurate
Non-destructive

Improved food safety
Portable scanner